Tungsten Carbide Strip
Description
The main alloy composition are WC and Co. WC and Co powders are mixed together, and through powder process, ball-milling, pressing and sintering, they are made into tungsten carbide strip. The ratio of WC and Co determines its properties and applications. Cemented carbide strip has a wide application in many manufacturing fields. We manufacture a full range of carbide strips for different applications. We can make them in custom sizes and grades for our clients' special uses.
Applications
Tungsten carbide strip is suitable for treating solid wood, shaving board and middle-density fiberboard. Cemented carbide strip can be used to make woodworking tools, such as forming tool, reamer, serrated knife blade and various blades.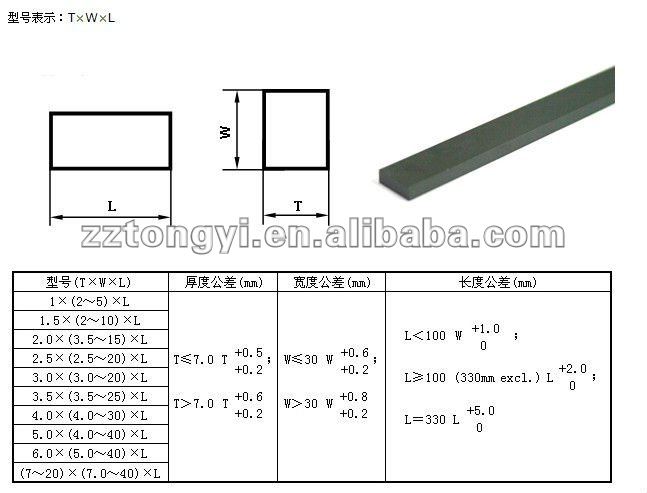 Advantages
1. Our carbide strips are marked by their excellent tensile strength, corrosion resistance, wear resistance, high hardness, high elasticity modulus and high compressive strength.
2. Tungsten carbide strip also has low impact toughness and low dilatation coefficient. The heat conduction and electron conduction are similar to iron and iron alloys.
3. All of our cemented carbide strips are made using high grade raw material and latest technology under the strict supervision of skilled engineers.
4. We offer a full range of tungsten carbide strips for many different applications, and also prove custom service to meet the individual customer's needs.
5. Our company promises fast delivery. Samples and quotes are available if necessary.
6. Tongyi cemented carbide strip has acquired the certificate of quality management system.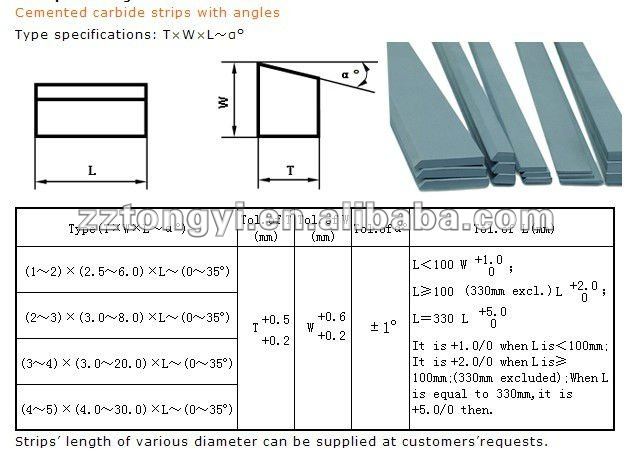 Technical Parameters
YG6 (K10), YG6X, YG8 (K20) and YG15 (K30) are highly recommended grades for tungsten carbide strips. We can research and develop more suitable formulas according to clients' applications. The following table shows the recommended grades and applications of cemented carbide strips.
Grade
Density (g/cm3)
Hardness (HRA)
TRS (MPa)
Applications Recommended
YG6X
14.95
91.5
1800
For drawing steel and nonferrous wires or bars of less than D6.00 mm under not so much stress.
YG6
14.95
90.5
1900
For drawing steel, nonferrous alloy bars of less than D20.00mm under more stress and also for drawing tubes of less than D10.00mm.
YG8
14.8
89.5
2200
For drawing steel and nonferrous bars and tubes, also for manufacturing mechanical parts, tools and wear parts.
YG10
14.5
88.5
2400
YG15
14
87
2800
For drawing steel bars and tubes with a high reduction rate and for manufacturing anvils, drilling and punching and impacting.
Established in 2002, Zhuzhou Tongyi Industry Co., Ltd has rapidly grown into a major manufacturer of carbide products in China. We mainly provide tungsten carbide strips, tungsten carbide bits, carbide button, carbide drawing dies, carbide anvils, carbide rods, carbide blanks, etc. Over the years, our products have been exported to many countries, such as the United States, Canada, Brazil, Vietnam, Indonesia, Philippines, Ukraine, Russia, etc. Our cemented carbide strips can be made in both standard and custom configurations.