Tungsten Carbide Hammer Drill Bits Inserts
Description
Carbide insert for hammer bit is usually used for boring machine and machine tools. It adopts unique angle design and special materials, which improves its wear resistance and thermal fatigue resistance, and increases the efficiency and accuracy of percussio drilling. Tongyi cemented carbide inserts are widely used in rock, clay brick, concrete and metal drilling. The recommended grades include YG8C and YG11C. HIP sintering and heat treatment ensure the good quality of each tungsten carbide insert. Both virgin and recycle powder are available at your option.
Advantages of Cemented Carbide Inserts
1. Body diameter can be reduced to eliminate burrs.
2. Carbide insert for hammer bit features high wear resistance and impact-resistance toughness.
3. To repeat repair is not necessary. It has a long drill life.
4. High efficiency could be promoted sharply in penetration of hard rock formations.
5. Labor intensity could be reduced.
6. Tongyi cemented carbide inserts can be sold at reasonable prices.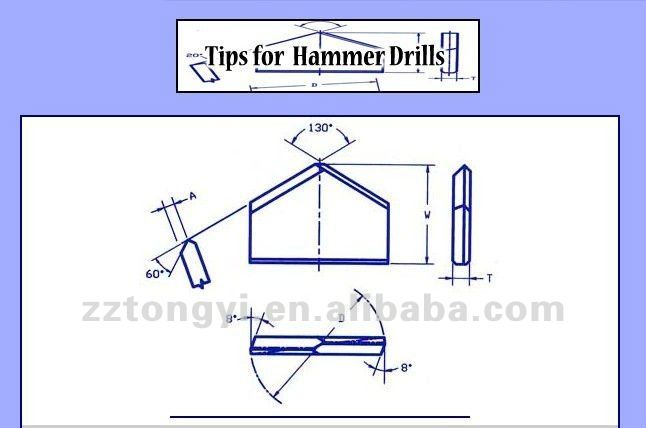 Founded in 2002, Zhuzhou Tongyi Industry Co., Ltd. is one of the most prominent manufacturers of carbide products in China. We have our own factory and production line and we are able to provide a great variety of carbide products, such as carbide insert for hammer bit, tungsten carbide roll ring, tungsten carbide drill bit, tungsten carbide mining tool, carbide die, carbide rod, carbide blank, carbide anvil, etc. We also make specially shaped products and custom services according to our clients' requirements. Over the years, our cemented carbide inserts have been exported to many countries, including Vietnam, Indonesia, Philippines, Russia, Ukraine, Poland, the United States, Canada, Brazil, etc.